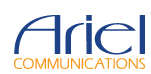 Products
Ariel FX
Ariel FX is the industry standard. It consists of three parts: Trading Client, Dealer Program & System Admin.Trading Client
Secure account access
Real time firm quotes
Click & deal trading
Real time chat
The ability to integrate third charts & news
Orders management
Live margining of client accounts
Real time marked to market clients' open positions
Real time intra-day valuation client accounts
Ability to link external statements
Multiple price page facility
Dealer Program
Customisable Control – Dealer control on all deals prior to execution
Filter – Filter trades by dealer, trade and book
Trades Manual or Auto-fill – Accept, Reject, or Request for Quote
Orders Manual or Auto-Accept – Accept or Reject individual orders
Click & Deal – Allows automatic dealing within parameters
Set Parameters – Set by currenc pair, size or individual client
Chat sessions – Dealer or Client initiated Chat 1-to-1
Alerts – Alert on New Deal, New Order, New Chat, Price feed failure
View Client Accounts
Trade History – View by Book, Trade, Client, etc
Position Keeper – View P&L by Book and in term currency.
Connection Quality – Monitor connection quality with different clients
System Administrator
Prices
Roll overs
Trading Books – manage customers and dealers into books.
House Position – View by book.
Monitors working orders – Orders redlined for Dealer execution or can be configured for auto-execution by client, market and size.
Slippage – Set by client, market and size to make extra pips on stop orders
Price History – View or search of historic price data.
Ariel FX in a Box
We've taken away the last barrier to offering FX – the price. Now you can rent a turnkey FX system complete with Client, Dealer and Admin for a low monthly fee.
Related Links: